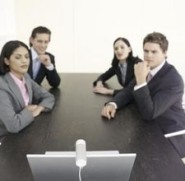 Making a positive first impression is critical in any situation. Whether it's a business meeting, live event or online video, your appearance and delivery is key to your success. Now, with vast improvements in video quality it's become the norm to watch webcasts or meet and greet each other on one of the many video platforms, including: WebEx, Skype, ooVoo, Google Hangouts, Ustream, Livestream, Qik, and many more. With all the technology, the simple rules of proper etiquette when using these tools become more important than ever. Making sure you sure you have good lighting and sound is not enough. According to Lisa Gaché, Co-Founder and CEO of etiquette education company Beverly Hills Manners, the lack of etiquette can derail the effectiveness of a video conference session.
"A lot of people think once they have a mic and a web cam they are all set to jump into video conferencing," says Gaché. "We encourage people to be prepared to use these new technologies effectively as they would any other business tool."
When it comes to video conferencing, there are some things you definitely shouldn't do. Be sure to behave on camera because people can always see you on group video calls, even when you're not speaking. Check out this video, 
What Not to Do During a Video Conference
 by 
NoStaticST
, for good video conferencing etiquette.
This short video, 
What Not to Do In a Webcast
 by webcasting vendor 
MediaPlatform
, presents the things to avoid when making a corporate webcast presentation. It's based on, "
Image Secrets of the Corporate Webcast by Ken Molay
", which he shares his techniques to make video presenters appear confident, poised and credible in a web event, considerations for proper lighting, seating, background, and dress, best practices for posture, eye movements, and body language, and how to make appearing on camera stress-free for your presenters to have the greatest impact on their audience.
Video chat company
ooVoo
partnered with Beverly Hills Manners, to provide the tips users need to maximize not only the impression they impart on video, but also their productivity on a call. To view a complete list of ooVoo's video conferencing tips visit: 
www.ooVoo.com/etiquette
Etiquette tips highlights:
Pick a facilitator to help manage any over-exuberant participants.
Ask permission if you wish to record a video chat. Privacy is expected until consent is given otherwise
Pay attention and listen – if you try to fake it, you'll be caught.
Acknowledge the power of your body language – avoid personal gestures such as hair playing, scratching, picking, etc…
Remember you are meeting face to face on clear video, so remain aware of your facial expressions and monitor them so you send the right message.
Don't eat or drink during a business video conference call.
Think about your environment and background
In summary, you have to be aware of what you look and sound like, and what your environment says about you.