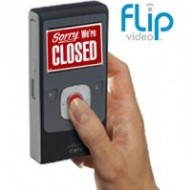 This article Are You Flipped Out About the Flip? originally appeared on Reel SEO  on Saturday, April 16, 2011.
Sometimes products come along that just simply hit the mark. Whether it's based on filling a business or consumer need, or for its ease of use, innovative simplicity or aesthetic quality, these products have helped shape that industry. They've also spawned competition within its market which has given us more choices andbetter products. But that particular product, while it may not be the first, will be remembered as the one that defines that market space.
Such can be said for Flip Video camera, which met its unfortunate demise earlier this week.
[Read more…]