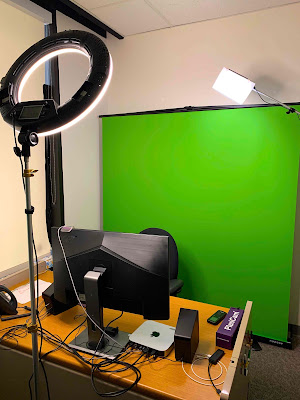 Over the last two years the rise in mini or "micro" studios around the world grew as the new economy of virtual meetings hit an all-time high. I don't mean
micro-studio apartments, what I'm talking about is transforming small office spaces into a personal video production studio with enhanced audio and video technology that provide professional studio quality in a safe environment.
As it's said, necessity is the mother of invention. COVID created challenges and opportunities for the video industry, and it forced us all to work differently and adapt, and regardless of what happened the need to communicate was our driving force and the show must go on.
So, early in the pandemic my team and I created a series of micro studios within our regional headquarters by converting empty offices into small studio spaces we call micro studios. We did it by necessity, as we had to socially distance our studio presenters and talent since they couldn't be in the same space due to COVID restrictions. But in our micro studios, they could safely meet with each other over a video call from their own mini studios.
But why go to all the trouble of building your own micro studio if the built-in webcam and microphone on your laptop and just regular ambient light works fine for most meetings?
Because production quality matters, and high-quality video content increases engagement. So, if you're presenting important information, teaching a class, public speaking or if you're appearing on any virtual event or broadcast TV, and you want to stand out and look and sound the best you can, then this blog post is for you.
As we built our micro studios, we tested a lot of different equipment and set ups and developed an affordable solution that we could replicate. We've successfully connected them to Zoom, Teams, WebEx, Vmix call, OBS, Restream, and many other virtual event platforms. Several of our regional leaders use our micro studios on a regular basis for their important board meetings and high-profile external events. I'd also add that we instituted and follow COVID workplace safety procedures to keep our staff and guests safe by wearing masks and disinfecting workspaces and equipment.
Here are the main components of our micro studios:
1. Computer – The Apple Mac mini M1 model 16 GB RAM, keyboard, mouse, is great if you're using it primarily for virtual meetings and lighter streaming applications this model works great and runs, Zoom, Teams OBS, and all productivity apps with ease.
2. Monitor – This is a real subjective choice, depending on what other work you do an inexpensive LCD monitor with HDMI inputs will work. We use the LG 29WN600-W 29″ 21:9 UltraWide and the Acer B277 27″ LED LCD Monitor.
3. Speakers – The Yamaha NX-50 Premium Computer Speakers were recommended by my audio engineers for their great sound at an affordable price. They work well and sound great although for most applications we prefer the in-ear monitors for very conversational sessions. This helps avoid any sort of audio slap back that isn't eliminated by the echo cancellation in the video call software.
4. Webcam – Logitech Brio 4K Webcam is the industry standard to get HD quality and look really great on camera. There are plenty of other options for higher quality with DSLR's, Blackmagic Pocket cinema cameras, but the Brio is a workhorse for your business meetings and webinars. Logitech has the Logi Tune app you can download that controls the settings from the Brio like your zoom ratio, white balance, focus, brightness and contrast. Logitech Capture app is also a content creation tool you can use with your webcam.
5. Audio interface – We handle audio differently than regular meetings, which usually are fine with just an inexpensive USB headset or Bluetooth earbuds. We use professional studio sound equipment that includes an audio interface, an omnidirectional lavalier microphone and an in ear monitor. In the micro studios we use the Focusrite Scarlett Solo 2×2 USB Audio Interface, and for our travel audio kits we've developed for our senior leaders we use the Shure X2U XLR-to-USB Signal Adapter. Both devices have professional XLR inputs and headphone jacks to monitor your audio input and output and a USB port to connect to your computer. The Scarlet has quarter inch 6.35 mm (1⁄4 in) outs which helps integration with other professional audio equipment.
6. Microphone & in ear monitor – While more inexpensive options are available, we go DPA all the way. We use the 4060 Series Miniature Omnidirectional lavalier microphones and DPA Microphones d:fine In-Ear Broadcast Headset. We use DPA microphones in studio and these amazing mics have withstood the rigors of space travel and exploring the sounds of Mars. More inexpensive options are available like the Sennheiser XS Lav USB-C Lapel Mic or any of these USB Lavalier Microphones.
7. Lighting – Depending on the room and size of the space, we use a similar approach but have several different lighting instruments with both ring lights and soft light panels. We don't use three-point lighting in our micro studios since that would be too dramatic and overkill. The key is to have flat even lighting on your subject so that there are no shadows. Soft incident light helps create that look and a simple way to achieve this look is to bounce your lights off your office walls. You can also position your lights to avoid those round ring light circles or lighting reflections in glasses. We use a few different lights in our spaces, like the VL-200T Portable LED Video Ultra-Thin Dimmable Lighting Panel with the Neewer Mini Set of Two Aluminum Photography Back Light Stands. We also use the more expensive Litepanels Astra 6X Bi-Color LED Panels. For ring lights, we use the CLAR Luminous Pro 19″ Bi-Color Ringlight Plus which has actually been discontinued, so a good alternative is the CLAR LF-Y500 Double Arm 3000-6500K LED Light or the VidPro RL-18 LED 18″ Ring Light.
8. Green screen – Using a green screen with your virtual backgrounds on Zoom calls will enhance your quality with a professional looking chroma key. We use the FUDESY Collapsible Chromakey Panel Green Screen-77 x74 Backdrop with great results.There are so many other equipment options out there as the market shifted to remote work and home studios over the last two years. We've tried out many solutions and found this collection of products work best in our environment. I'll be sharing more detail on some of the individual components and devices in future posts.
I'd love to hear what technology and solutions you're using in your own micro studios. Let me know if you have any recommendations or what you're doing to get the best audio and video quality for your virtual events.
Originally published on Larry Kless' Weblog on February 13, 2022