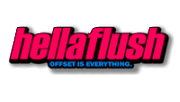 If you are an automotive enthusiast, you will quickly recognize the phrase "Hellaflush". It has become synonymous with modified cars and trucks that have aftermarket wheels that are flush with the fender. This might not seem like a big deal to the average Joe, but to the auto enthusiast, especially import enthusiasts, Hellaflush has become a trend that looks like it's here to stay.
Online Videos posted to YouTube, Vimeo and others, show the trend at work that drives up interest, excitement, and viral videos. Here is an example of a
video dedicated to the Hellaflush movement
that has been posted to YouTube:
As you can see from the above video, this automotive trend is very popular, and is catching on every day. Online Videos like these give inspiration to average enthusiasts to turn their cars into something special.
Getting your car Hellaflush requires a lot of research to ensure that the wheels and tires you purchase are the correct offset to make it sit just right when lowered. The tires also come in to play as each tire manufacture has different tire designs and this can make or break the stance of your car. The suspension is also very important and needs to give your car proper clearance. Popular suspension setups such as KSport Kontrol Pro Coilovers and Blackworks Coilovers have been used to create optimal stances. Seeing a video of the same car you have that is hellaflush gives you creative ideas on creating that look for your car or truck.
About the author –
Alex Polonsky
Alex Polonsky is an automotive enthusiast that blogs over at APtuned (
http://www.aptuned.com/blog/
) where he talks about the latest trends in 
automotive high performance
. Alex has been in the automotive industry since 1999 and has a passion for online video, technology, and social media. Alex is also co-founder of 
VidCompare
.