Online Video Watch published a new post today, One-Fifth of US Watching Online citing a report by Integrated Media Measurement, Inc. (IMMI), "showing that up to 20% of episodic content viewing occurs online, depending on the genre of the content and the amount of time the show has been on the air. In a some cases is higher than DVR viewing of the broadcast content."
The report looked at 14 shows on two of the major networks in Fall 2007 and Spring 2008 and had very interesting findings on viewer demographics. According to Online Video Watch, "Some of the more striking data shows online viewing is flat out replacing TV, not just catching shows you missed or clips that you wanted to watch again. Another key difference showed that white, affluent, well educated, working women aged 25 to 44 were the dominant viewers of online TV content, compared to the male 18-25 demo that is typically associated with online video."
You can also read more on Search Engine Watch or Download the full report.
In a related post on this subject, Duncan Riley wrote last week on the Inquistr that, Television will be the first traditional media medium to fall.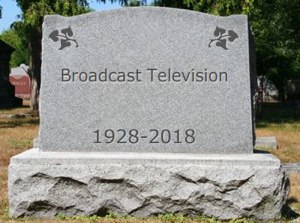 Citing numerous references he presents a compelling case saying that,"The television industry is already at the start of a slow, agonizing death spiral. As television viewers have switched off, networks spend less on creating content, switching to reality television and other cheap to make genres, causing even more people to switch off."
Read his full blog post here.