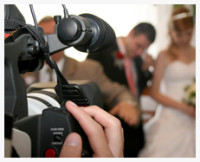 This article originally appeared on Zlobber as Wedding Videography- How it has revolutionized today's marriage celebrations? posted by Jason Phillips on July 4, 2012
---
Comparing
wedding videography
to
wedding photography
is realistically unrealistic. Both mediums are trying to tell a story and usually succeed, but one uses motion and sound while the other depends on the skill of the photographer. There are arguments for both as well as those who believe they have to have both at their wedding in order to have their special day fully documented.
However, as the old saying goes too many cooks can ruin the stew. So, in the same way too many photographers and videographers can ruin the wedding. When planning your nuptials having photographic memories will be an important step. Deciding whether you want a photographer or videographer or both will require some serious consideration. Photographs can be placed in an album to present a timeline of the event while creating lasting visual memories while a video of the day can also capture all the sounds of the day.
Many people take the refuge of corporate production companies; especially the elite customers.
Pictures of the speeches given during the reception may spark memories of what was said but a video will provide the words as well as the tone in which they were said. Individual table photos are a nice reminder of what guests were there and with whom they were seated, but a video can provide individual messages from each
of the attendees.
The wedding ceremony is a sacred event and photographers sometimes, determined to get the best shot possible, will interfere with the minister and other members of the wedding party. Videographers are seldom any better as they try to muscle their way into the best possible position. You will need to set the ground rules for either one before the ceremony, and talk to the person officiating, to ensure the ceremony goes off without any problems.
For most couples a wedding is a once in a lifetime event and having the day recorded for prosperity will preserve the countless memories. Most couples go through the day like a whirlwind and memories can be sketchy at best. You also need to consider that the uncle or cousin with a video camera may not capture the best videos or have the aggression needed to get the best possible video of the day.
Today, there are many companies engaged in video marketing and production of niche videos. These companies will make your wedding an everlasting memory.
If you choose to have both a photographer and a videographer, you need to caution them both ahead of time that they need to work together. You are going to pay the bills, usually not inexpensive, and you want the best for your money. Professionals will work together to stay out of each other's shots so you don't have them appear in all of your wedding pictures.
The bottom line is when choosing between still photography and video look into the future. Determine if you will want to peruse an album of the day's memories or pop a disk into the player and be able to relive the entire day. Many couples make the mistake of overkill for their wedding with two or three of each, as though they are putting together a professional production. Sure, they are certain to get every image they want, but usually at the expense of them tripping over each other while they block your guests from seeing what is going on.
---
About the author:  Guest author Jason Phillips is a passionate photographer who can tell tips, tricks and techniques. An in depth look on his photographs tell he is an adept photographer not an amateur one. Visit his site to know more about corporate video production and video marketing.