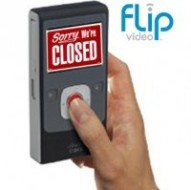 This article Are You Flipped Out About the Flip? originally appeared on Reel SEO  on Saturday, April 16, 2011.
Sometimes products come along that just simply hit the mark. Whether it's based on filling a business or consumer need, or for its ease of use, innovative simplicity or aesthetic quality, these products have helped shape that industry. They've also spawned competition within its market which has given us more choices andbetter products. But that particular product, while it may not be the first, will be remembered as the one that defines that market space.
Such can be said for Flip Video camera, which met its unfortunate demise earlier this week.
Just as Cisco surprised everyone with
its $590 million purchase of Pure Digital
, the makers of the world's most popular pocket video camera, just 2 years ago – the networking giant stunned the masses with
its announcement that it would be shutting down the Flip Video business unit
and kill the popular consumer device. 500 Cisco employees from the Flip Video business unit unfortunately would also be trimmed from their ranks as part of the company's consumer business restructuring plan.
Why Kill the Flip?
Cisco CEO John Chambers had sent out a memo the week before admitting to employees that they had disappointed investors and confused employees and that the company needed to get back on track and refocus on its core offerings. The company had seen several quarters of disappointing results and its consumer market strategy had faltered with its recent TelePresence product Umi, which it will stop selling through resellers and will be folded into the company's Business TelePresence product line. But while the Flip Video cameras were still selling like hot cakes and represented 35 percent of the camcorder market , Cisco's CEO said that they would need to retrench and make some "bold changes."
He followed up this week by saying:
"We are making key, targeted moves as we align operations in support of our network-centric platform strategy. As we move forward, our consumer efforts will focus on how we help our enterprise and service provider customers optimize and expand their offerings for consumers, and help ensure the network's ability to deliver on those offerings."
Reaction to the News
The announcement was met with mixed feelings throughout the Internet, with many eulogizing the consumer device that revolutionized the camcorder industry and became an easy to use tool for online video publishing. Many have pointed out that the rise of HD recording capabilities in the iPhone 4 and the Droid have eroded then Flip's market share and triggered its decline. One the big drawbacks of the Flip has been the inability to capture good quality sound. The lack of a microphone input jack really limited it to being more of a "one trick pony" consumer device unlike its competitor the Kodak's Zi8 which includes a mic input jack, 1080p recording and an HDMI connection.
Video producers around the world rejoiced its demise because it meant that PR professionals and marketers could go back to their old jobs and leave the video production to professionals.
According to Pogue, smart phones didn't kill off the Flip because of the 1 billion cellphones sold annually, only 1 million are iPhones and most cellphones don't even record video, let alone HD video. Pouge noted that Chambers' quote about the company refocusing on its core business to make "key, targeted moves as we align operations in support of our network-centric platform strategy" really meant, "We had no clue what we were doing."
Both Om Malik and Kara Swisher spoke with Jonathan Kaplan, CEO & Founder of San Francisco-based Pure Digital, who had recently departed from Cisco, about why Cisco may have killed the Flip. While Kaplan declined to comment he did say people still want single purpose devices. Kaplan told Swisher that, "Flip changed the world. The brand will always live….So I don't think of it as such a bad day."
Did you say, FlipLive?
Pouge said that the tragic death of the Flip was compounded by what he learned from a Flip product manager a few days prior to the untimely announcement, that the Flip was planning to release FlipLive, a new feature that would enable the Flip to do live video broadcasting to the Internet from a Wi-Fi hot spot.
"Think how amazing that would be. The world could tune in, live, to join you in watching concerts. Shuttle launches. The plane in the Hudson. College lectures. Apple keynote speeches. Or your relatives could join you for smaller, more personal events: weddings, birthday parties,  graduations, first steps. And the FlipLive was supposed to ship on April 13. The day after Cisco killed the Flip."
This was a feature I had long thought would make the Flip a unique device with live streaming capabilities of a smart phone with applications like Qik, Ustream, Livestream and others. But now, it appears we won't seeing that feature and will have to rely on our mobile devices for that.
RIP Flip
The Flip had a number of competitors and in his article, Death of the Flip camcorder doesn't mean camcorders are obsolete, Paul Riismandel (the medigeek) wrote:
"Prior to the introduction of the Flip there had been a few attempts by electronics makers like Panasonic and Samsung to introduce small flash-memory camcorders which failed to take hold in the market. Sanyo was actually an early success story with its Xacti line of standard def and HD camcorder, though never a runaway success like Flip.  While Flip caught its competitors by surprise, that first-mover advantage didn't last very long. Within a year Flip had created its own market segment, challenging Sony and Kodak, in particular, to jump into the palm-sized camcorder market with both feet. Sanyo answered the challenge by reducing the price on its Xacti line while retaining higher-end features like an optical zoom lens and flip-out screen. Even though Flip remained on top, these other manufacturers soon were nipping at its heels."
Like Pouge, Riismandel doesn't think the rise of HD recording in smart phones had a huge affect on the Flip's market share and that it was rather a victim of its own success. It was caught in a bad marriage with a technology giant that didn't have success in the consumer market and chose to close down the business rather than sell it. Some have said that Cisco really may have wanted its intellectual property rather than extending its success in the market.
Personally, I hope we see the Flip resurrected in some form or another. The fact is, it's a simple device to use with only a few steps (1) Turn on (2) Press red button to record, press again to stop (3) Insert USB into computer to download, edit and upload. As evidence below of my first Flip video which was shot by my daughter who was 10 years old at the time.
The Flip's biggest drawback was its lack of a microphone input jack, and as a video professional I criticize its shortcomings in the audio department, but it really did help revolutionize the pocket camcorder industry with its simplicity and size. I have three Flips, but stopped using them when I got a Kodak Zi8 mainly because it has a microphone jack.
But the Flip challenged the industry and pushed smart phone makers like Apple, Samsung, HTC and others to make devices with HD video recording capability which many have said was part of its decline. That may be true to some degree, but it really comes down to the fact that Cisco failed at the consumer market because at its core it's really a B2B company and not a B2C company.
So ends the saga of the Flip Video Camera… whether you loved it or hated it, may it rest in peace.