This story comes from several sources. TubeMogul recently surveyed 12,000 of it's users and found that, "The average CPM (which varied from pennies to over $100) is $12.63,
20.4% of all users are selling their own ads into videos and the market
seems split on the best ad format. Also, about a third of those
monetizing are mid-tier and are struggling to sell ads. MORE HERE."
TubeMogul Blog » Census: Are Producers Of Online Video Making Money?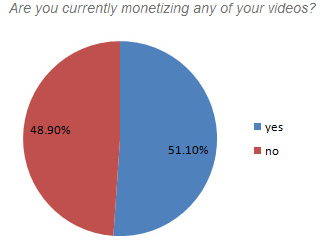 Silicon Alley Insider: Web Video Producers: We're Pretty Sure There's A Business Here, Somewhere
"The results: 51% are trying to make money from the video views they
generate, and they're not doing a terrible job at it either.
Tubemogul's users report that advertisers are paying an average CPM of
$12 — that is, $12 for every 1,000 views." … MORE
TubeMogul: Average Video Ad CPM Is $12.39 « NewTeeVee
NewTeeVee points out,"Admittedly, TubeMogul's data is limited. The company reached out to
nearly 12,000 of its users, which represent a mix of big media
companies (CBS Interactive), new media studios (Next New Networks), ad
agencies, independent creators and more. Of those contacted, 1,114
completed the survey (lured by the promise of a free T-shirt), and
interestingly, some respondents were confused over terms like 'monetization' and 'CPM.'"
What is CPM?
CPM is frequently used in advertising to represent cost per thousand (where M is the roman numeral of 1000). When used in advertising it relates to the cost per thousand page impressions.