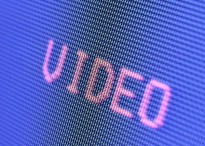 What exactly is online video publishing?
It's actually an entire ecosystem that has emerged as the distribution of video on the internet has grown over the last 15 years. It began with small postage stamp sized videos that were extremely pixelated and only a few frames per second. That was the time before broadband when the average connection speed ranged from 28.8-56 kilobits per second. It predated Flash video and H.264 but the seeds were planted and I remember way back when in the mid-1990's that video was going to be "the killer app." In the last few years it has really become democratized and evolved from the big Hollywood studio model to the independent producer and citizen journalist.
Now there's online and offline video workflow processes that differentiates the platform from traditional video production which mainly involves the three stages of production (pre-production, production, post-production) and distribution. Now we ingest, transcode, output, tag, distribute, share, rights manage, monetize and get reporting metrics. The use of physical media like videotapes and discs has lost it's relevance in the age of online video publishing when you can broadcast a live video feed directly to the web and instantly archive it at the same time. The proliferation of free uploading and hosting, automatic encoding, Creative Commons licensing, syndication via RSS, embed tags make it possible for anyone to be an online video publisher.
In it's most basic form, online video publishing is making video available on the web and on internet connected mobile devices. The video and web tools, delivery platform, distribution network and syndication are key to online video publishing.
Here's a great introductory resource to kick things off compliments of online publisher and new media communication guru Robin Good:
Stay tuned for more to come…